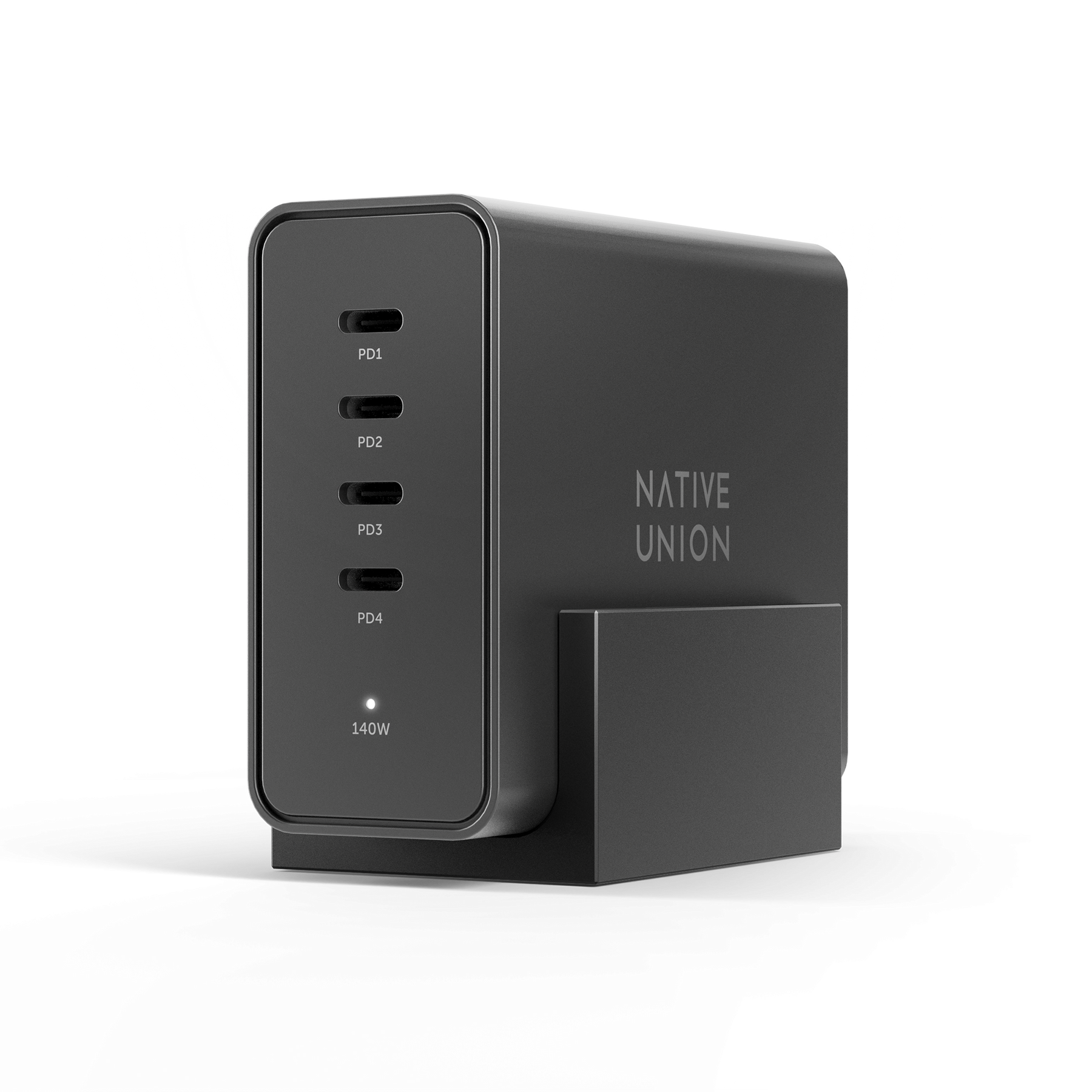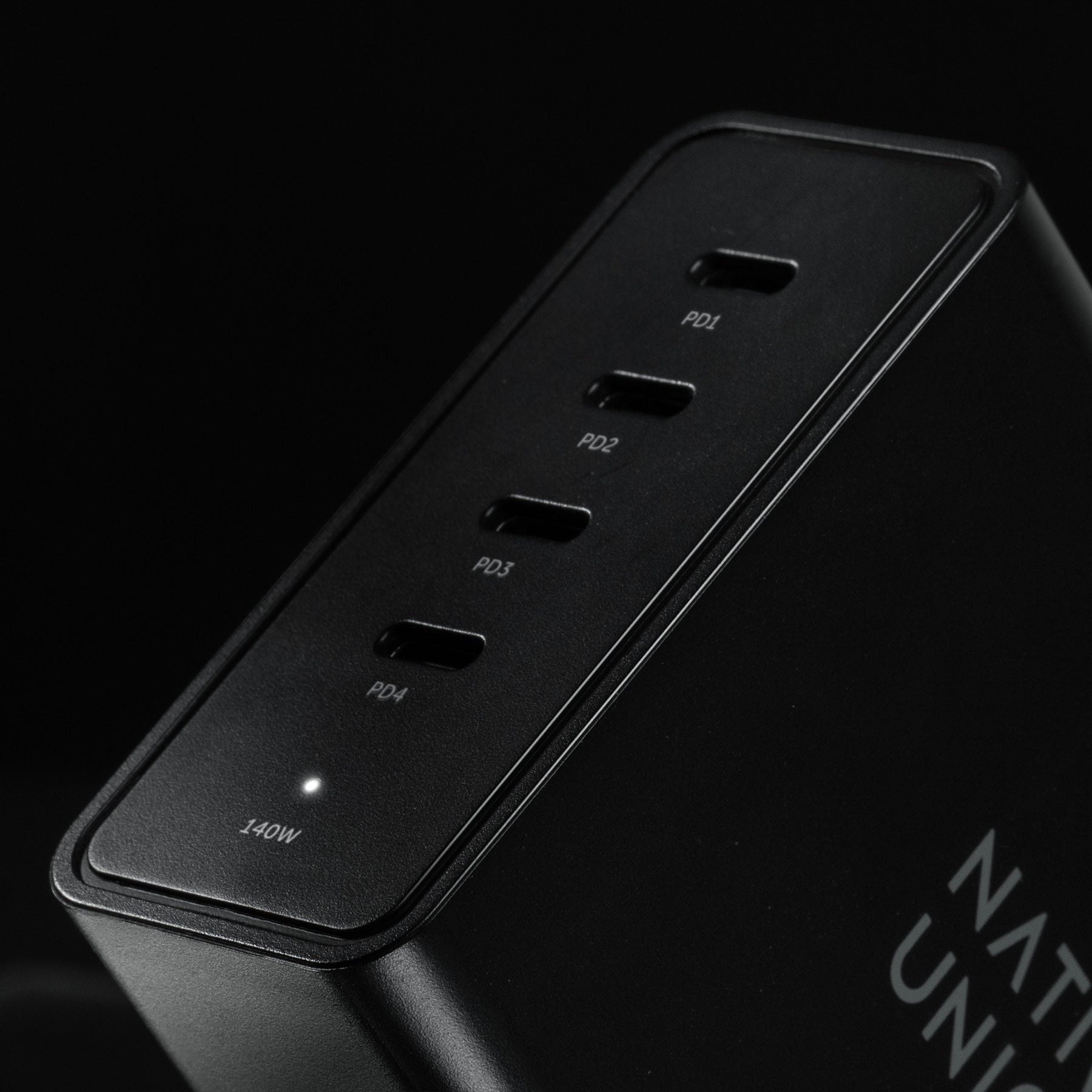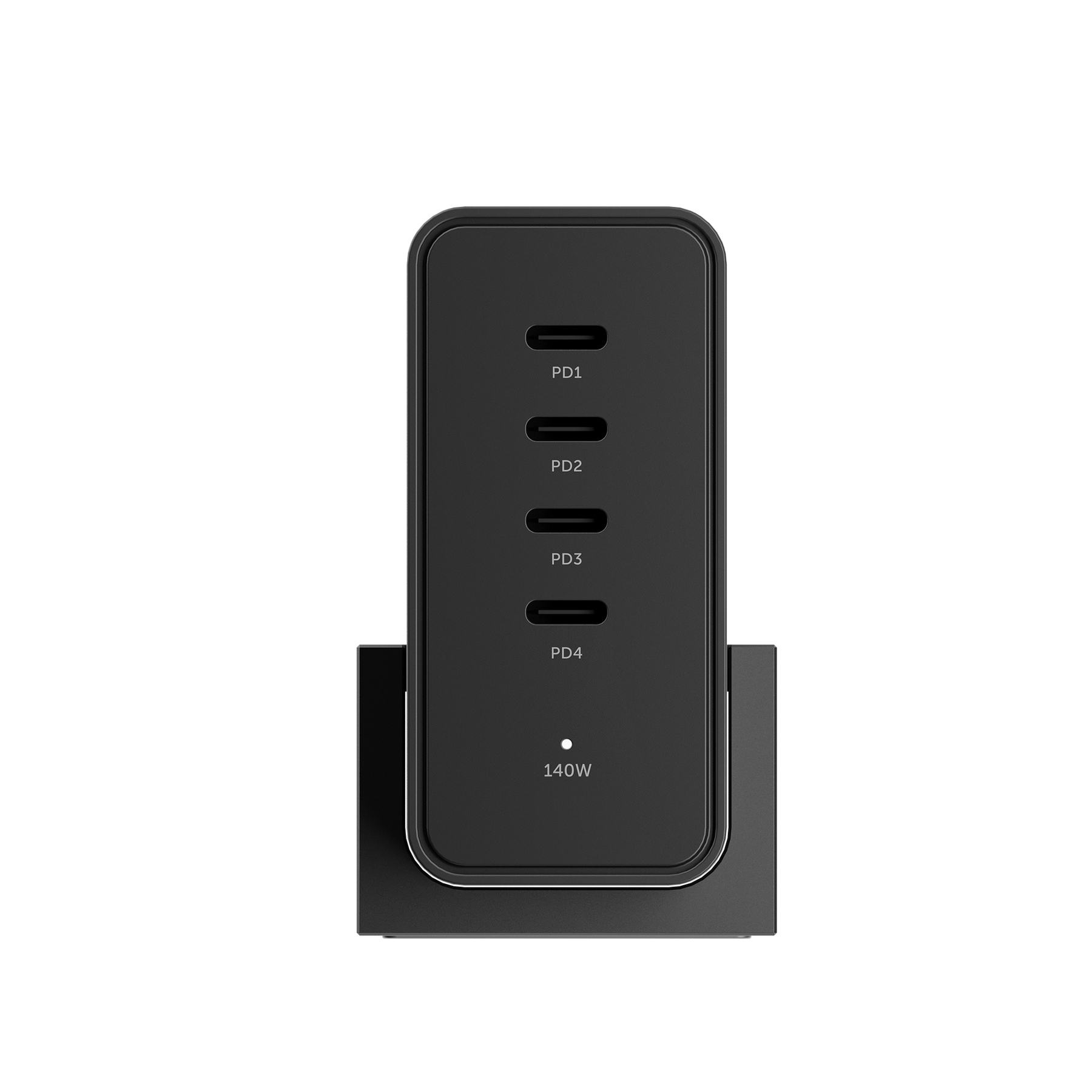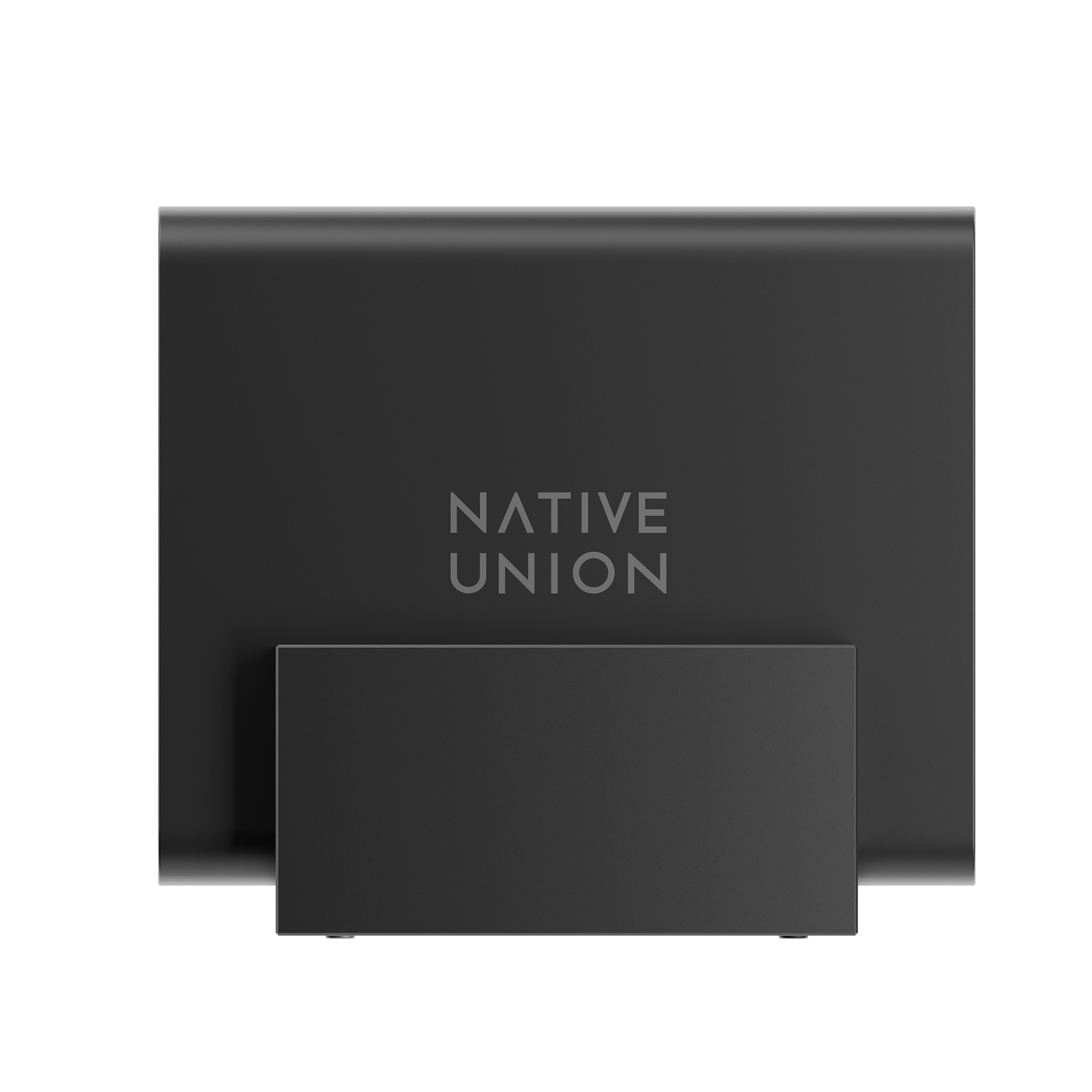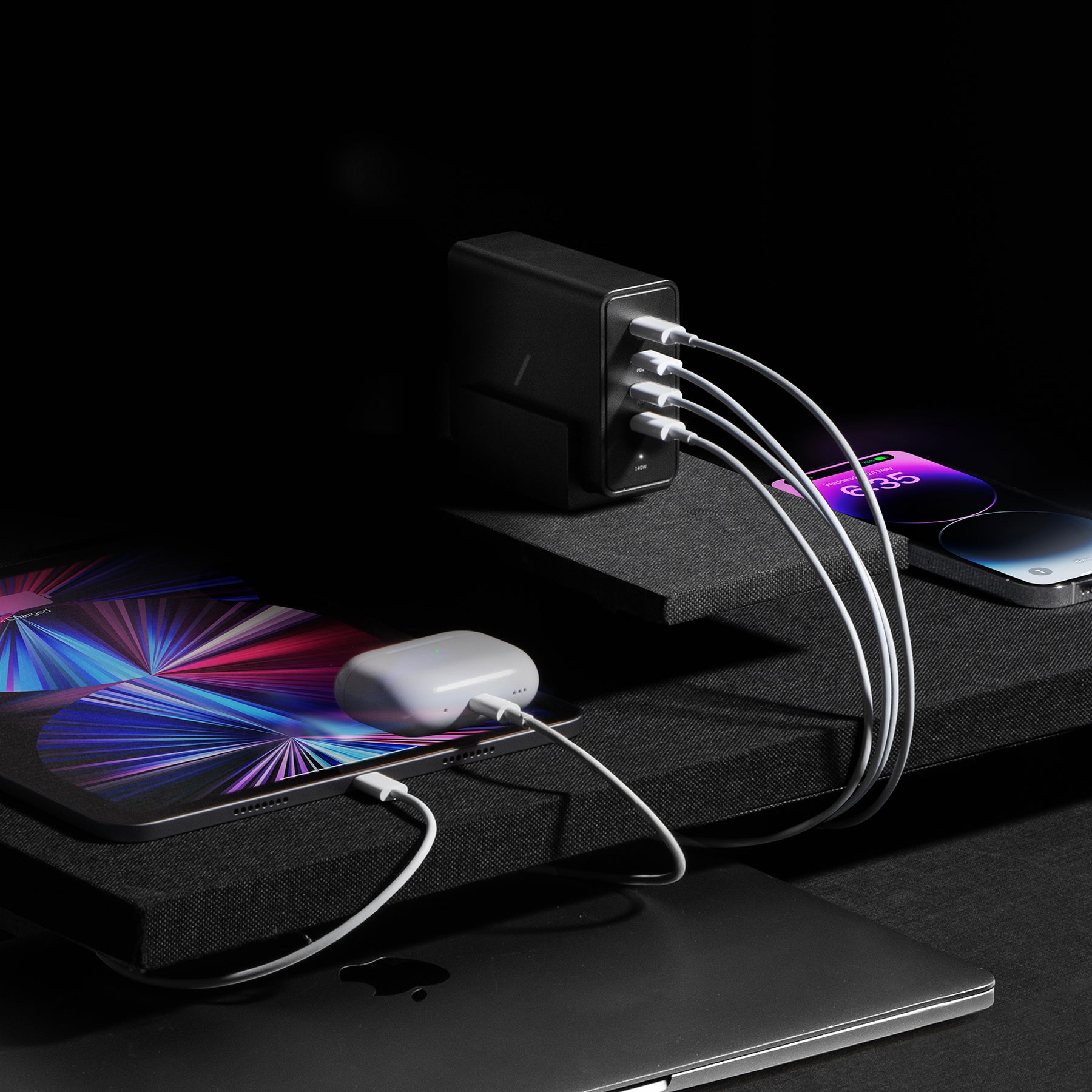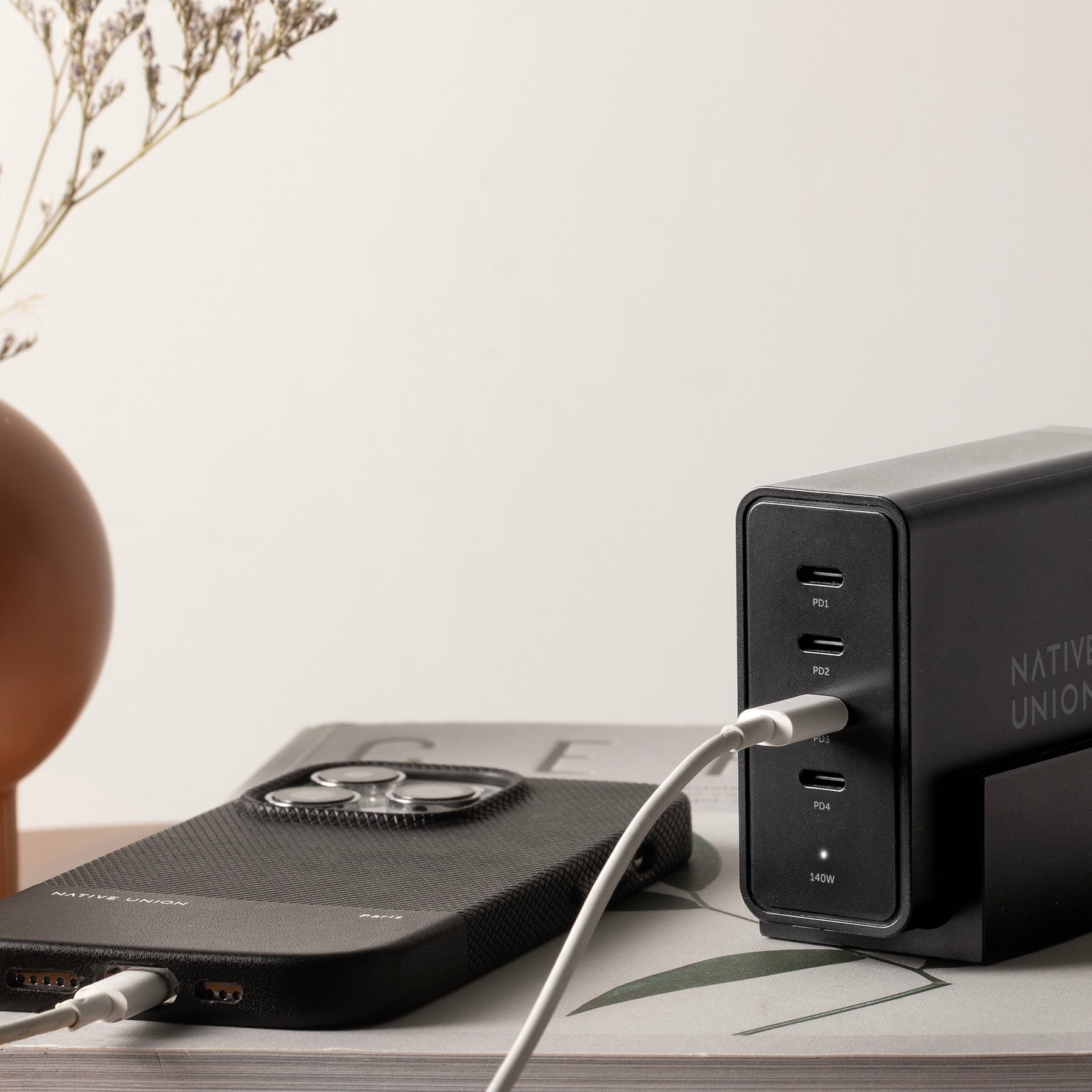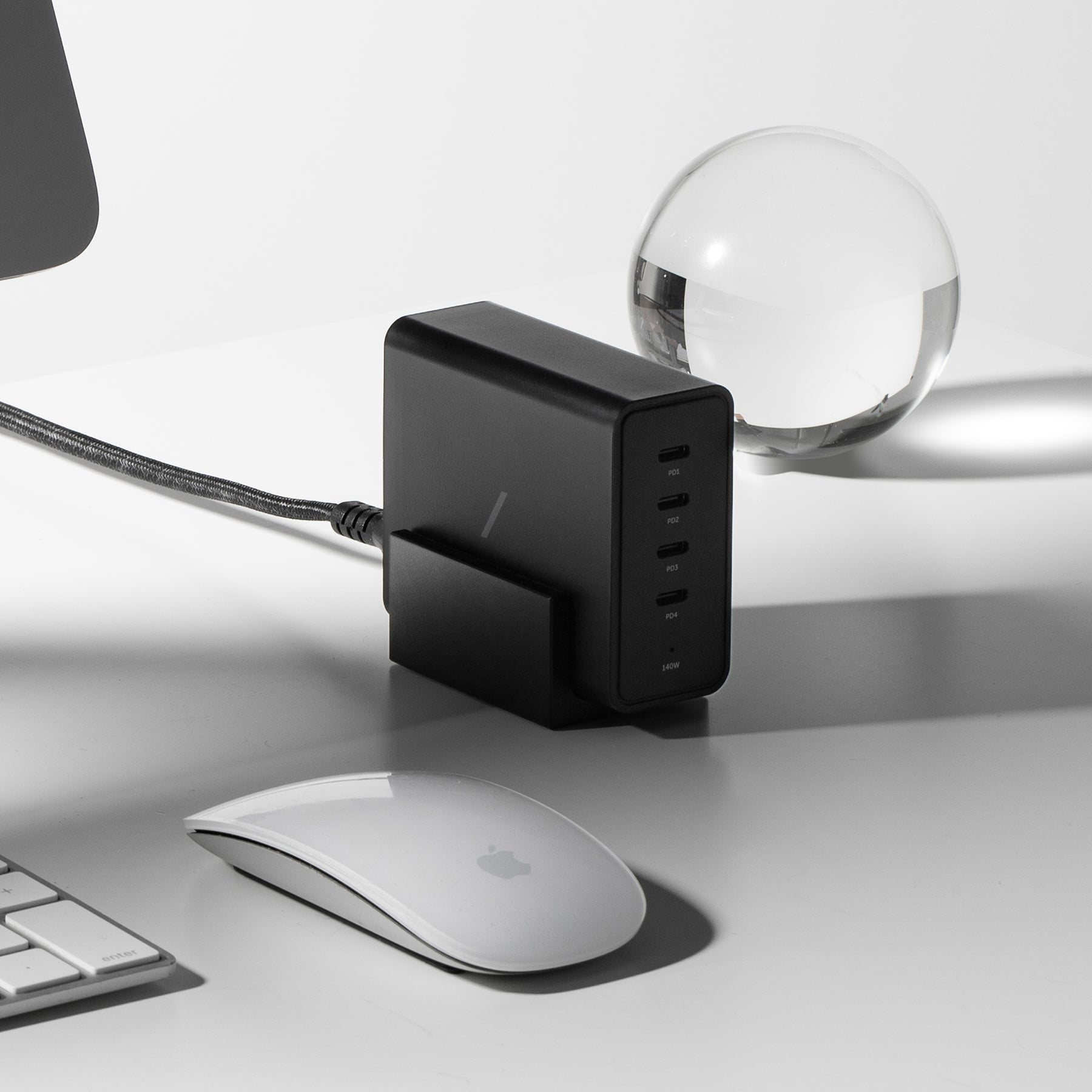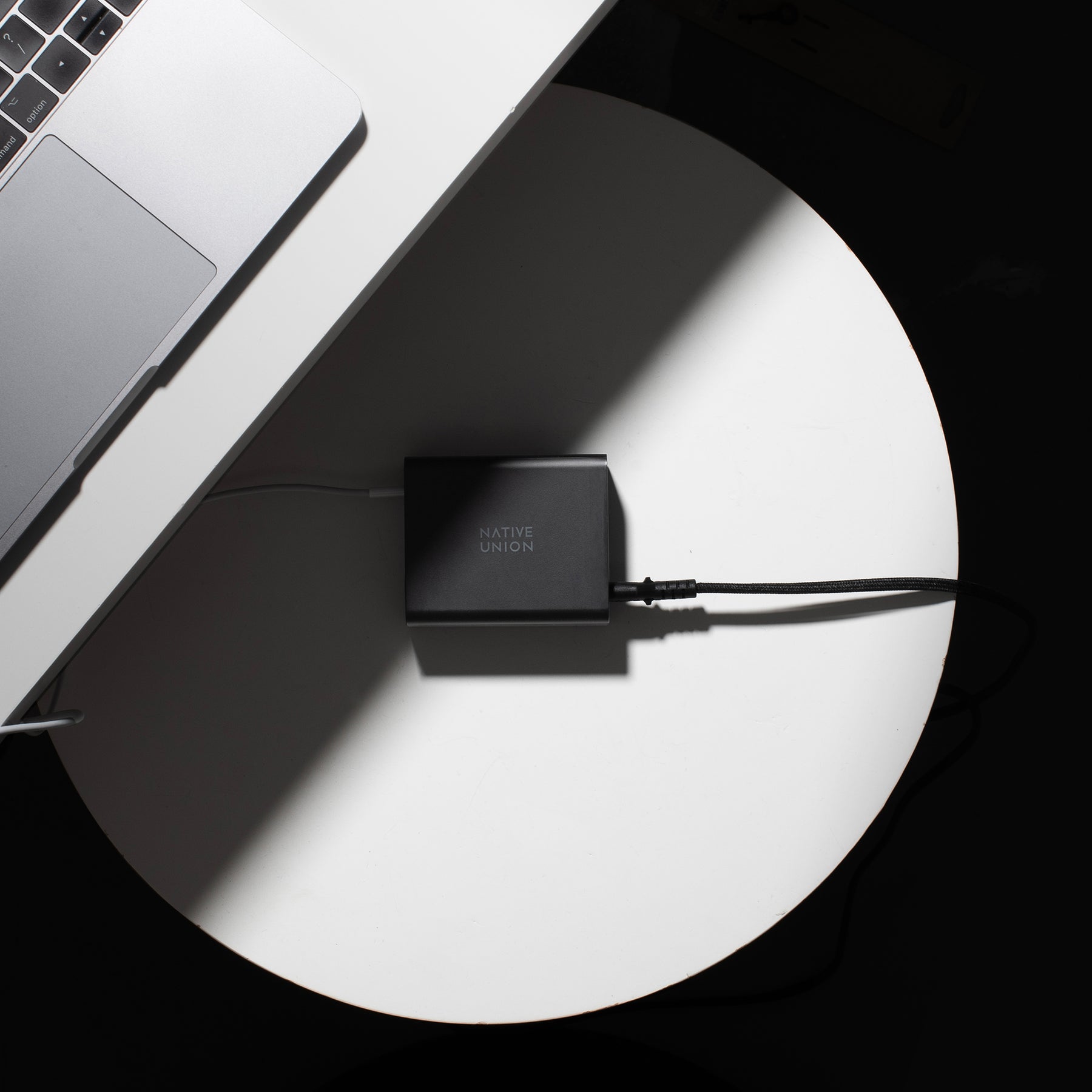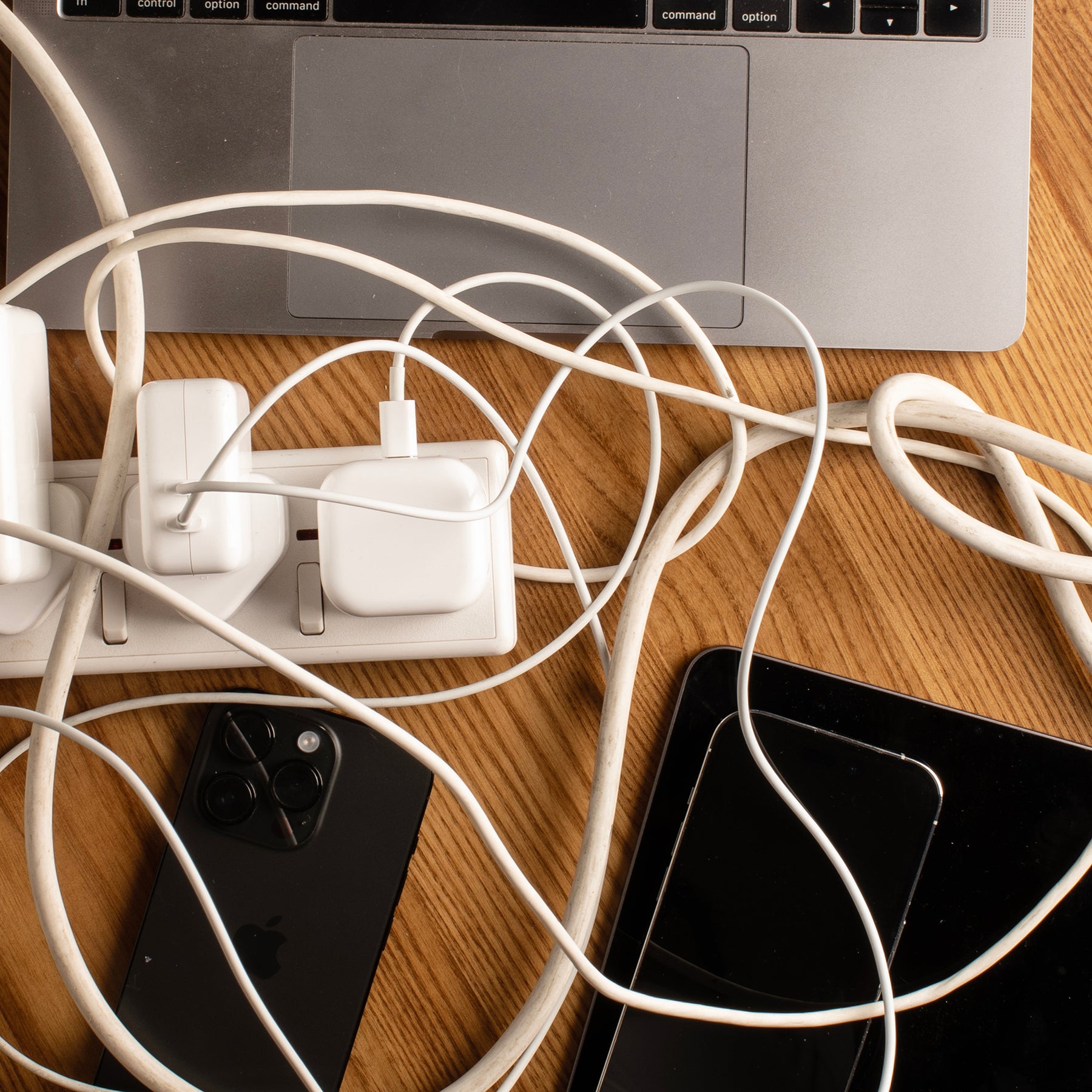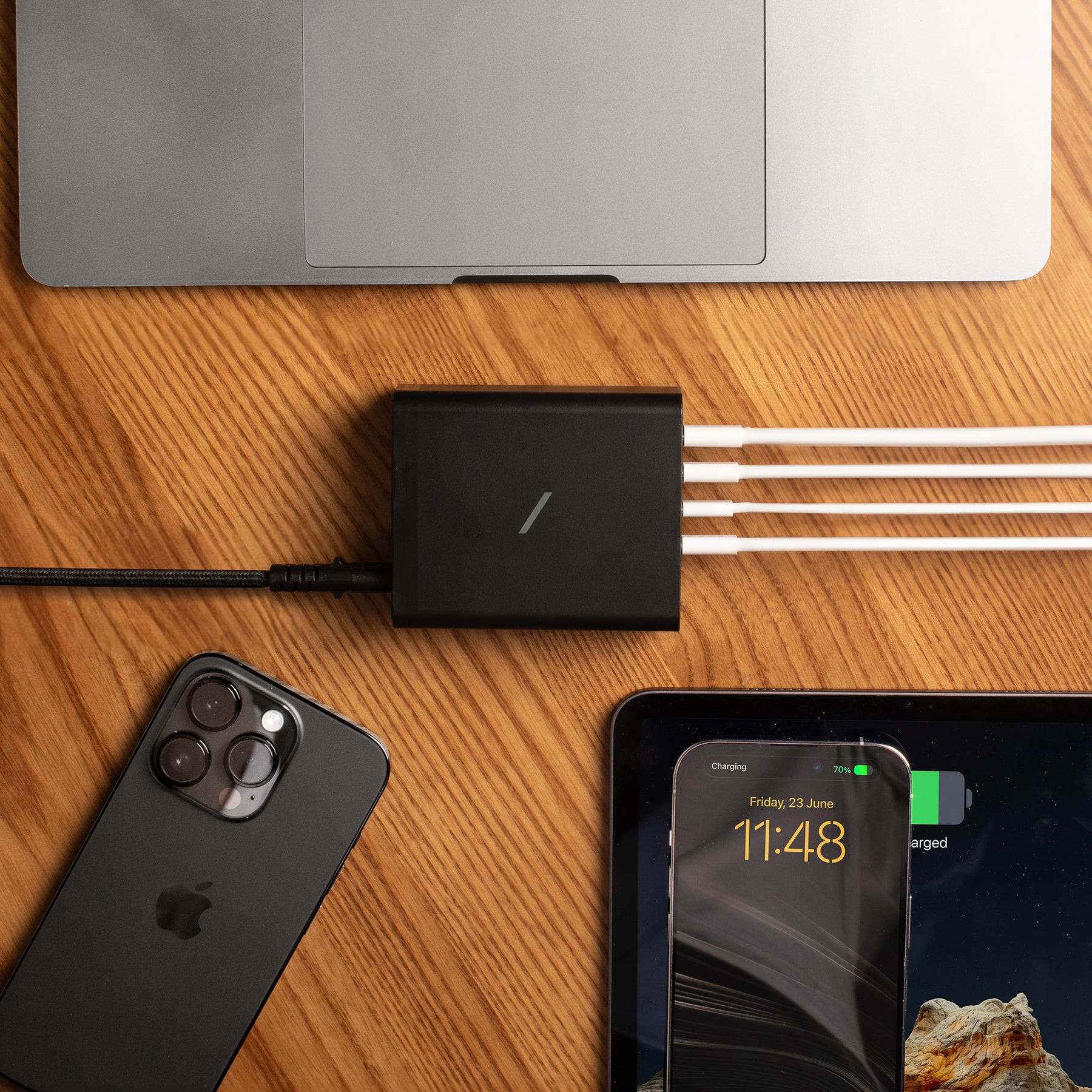 rated 5.0 from 1 customers
Fast Desktop Charger PD 140W
THE MOST ADVANCED USB PD 3.1 MULTI-DEVICE DESKTOP CHARGER
Save time & fast-charge up to 4 devices at once
Powers your Laptop & your Phone at full speed
Aluminum desk stand to keep your charger in place
Housing made 90% from recycled plastic
83
Desktop charging, reimagined with the latest and greatest PD3.1 support. This high-performing charger powers up to four devices simultaneously, to streamline and supercharge your entire desk setup from a single source. Designed with your everyday ease in mind with a convenient desk stand to keep your charger in place and in reach.
Learn more about GaN technology.
Save time & do more with Power Delivery for your laptops, tablets, phones & more
Advanced 140W GaN technology fast-charges up to 4 devices at once with 4 USB-C ports
Dynamic power allocation optimizes power distribution between devices & directs full 140W capacity to any port when charging a single device

PD-enabled USB-C port supports full-speed charging for your MacBook Pro or powers your iPhone up to 50% in under 30 minutes

Comes with a refined braided power cord & a convenient aluminum desk stand to keep your charger in place

Made better for the Earth with a housing made from 90% post-consumer recycled plastic
Available for US/CA, EU & UK adapters
*For maximum performance, pair Fast GaN Charger 140W with a cable & device both supporting PD3.1.
  WARNING for customers in California (USA)

---
| | | |
| --- | --- | --- |
| | | |
| 2-Year Limited Warranty | 14-Day Returns | Secure Checkout |
Power Delivery:USB PD3.1

Output:
- Single Port (C1/C2/C3/C4): PD 140W max (5V/3A; 9V/3A; 12V/3A; 15V/3A; 20V/5A; 28V/5A)
- All Ports (C1+C2+C3+C4): Total 140W (Dynamic Power Allocation technology)

Input: AC 100V-240V
Included In The Box:
- Fast Desktop Charger PD 140w
- 2m AC Cable (UK/EU/US)

Product Materials: GaN, 90% post-consumer recycled plastic, metal, GaN
Product Dimensions:
Height: 3.31 in / 84 mm
Width: 2.76 in / 70 mm
Depth: 1.30 in / 33 mm
Weight of Charger: 303.5g
Weight of Stand: 75g
Weight of Cable: 124g (UK), 80g (EU), 97g (US)

This product is compatible with:
USB-C devices
Apple devices with compatible USB-C cables including:
- USB-C to Lightning cables for iPhone 5 to iPhone 14, AirPods and other Lightning devices

- USB-C to Magsafe wireless charging cables for iPhone 12 and later and other MagSafe compatible devices

- USB-C to Apple Watch charging cables

- USB-C to MagSafe 3 cables for compatible MacBook Pro laptops

* These cables are included with your Apple device and/or are sold separately at Apple or Native Union

* Supports high-speed charging of a MacBook Pro up to 140W via MagSafe 3 cable

We designed this for the next generation of powerful laptops and devices. USB PD 3.1 is the latest and greatest innovation in charging, boasting a lot more power than its predecessors yet utilizing the same miniscule Type-C ports and connectors. Equipped with four ports, our most versatile wall charger to date, you can fast-charge your entire tech arsenal or opt for single-port charging for all 140W of power to a single device.
Latest & Greatest
NEW HEIGHTS IN CHARGING
Meet USB PD 3.1 – the latest charging standard for stronger power and better performance. Unlocking capacities higher than the previous 100W PD maximum, USB PD 3.1 technology enables unmatched multi-device power and can even charge your workstation, 4K screen, and your most power-intensive devices up to 140W. All from a tiny USB Type-C cable.
For your array of devices
MORE PORTS, MORE POWER
No more picking favorites between your most-loved devices. With 140W capcity and four Power Delivery enabled ports, charge all your tech, all at once. Got an iPhone, iPad, AirPods and MacBook? Fast Desktop Charger 140W has you covered.
Always in reach
EASY DESKTOP ACCESS
Keep 140W of power at your fingertips with a convenient desk stand that docks your charger in place and in reach. Made of weighted aluminum for a stable grip and an elegant finish that complements the sleek design of your laptop, tablet, monitor and desk setup.