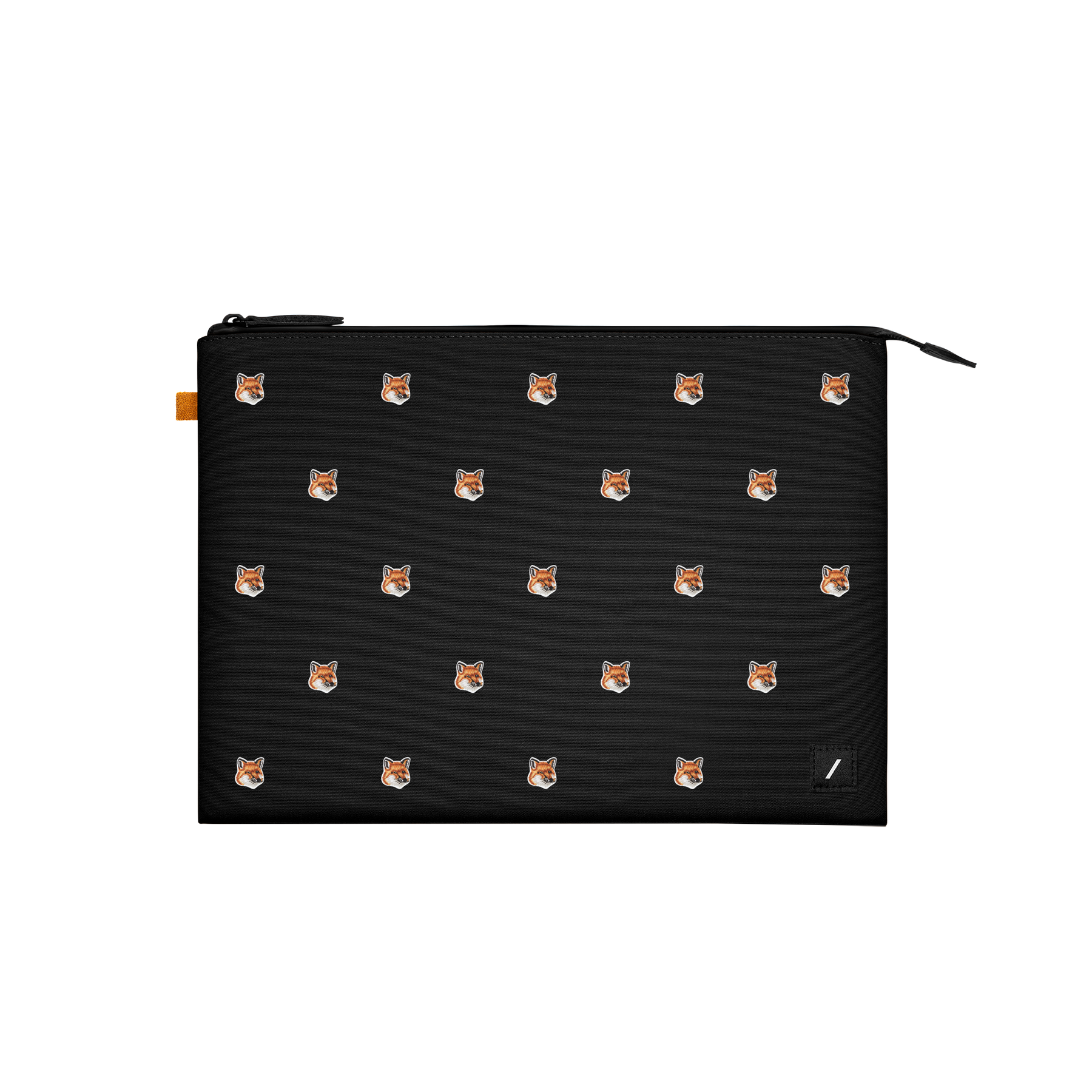 rated 4.8 from 14 customers
All Over Fox Head Sleeve for Macbook 15/16"
The recycled MacBook sleeve with All Over Fox Head
In collaboration with Maison Kitsuné
Compatible with Macbook 15/16"
360-degree form-fitting protection
Made with 100% recycled canvas
10
Wear the fox on your sleeve. For office days to on-the-go, stand out from the crowd with Maison Kitsuné's playful panache, taken to the max.
Created for Maison Kitsuné x Native Union
Everyday protection with a foxy twist
Crafted with a hard-wearing textile exterior & recycled padded interior* for 360-degree form-fitting protection
Made better for the Earth with 100% recycled polyester (rPET) made from plastic bottles, coated for a water-repellent finish
Refined accents* & zipper* made from sustainable materials for considered design & care
This product is also available for Laptops 13" & 14"
*100% recycled PU foam, Plant-based leather alternative details, 88% recycled zipper 
---
| | | | |
| --- | --- | --- | --- |
| | | | |
| Recycled Materials | 2-Year Limited Warranty | 14-Day Returns | Secure Checkout |
Product materials: Recycled Polyester, Recycled Foam(Polyethylene), Recycled Bonded leather, Genuine leather, TPU Coated Zipper
Product Dimensions:
Height: 10.43 in / 26.5 cm
Width: 15.16 in / 38.5 cm
Depth: 0.39 in / 1.0 cm
Weight: 10.23 oz / 290 g
This product is compatible with:
MacBook Pro 16" (2019 & later)
MacBook Pro 15" (2016 & later)
MacBook Air 15"
Sometimes more is more. This collaboration capsule with Maison Kitsuné takes us somewhere different, challenging us to step away from our penchant for minimalist design. All Over Fox Head is unapologetically bold, unbridedly playful, and naturally stylish – much like the Paris-meets-Tokyo brand itself. Safe to say, we had fun designing a little louder.
14 happy users
loved this product
REFINED, EVERYDAY PROTECTION
FORM AND FUNCTION
Crafted with a hard-wearing resistant textile exterior and a recycled padded interior to shield against wear and tear, finished with a water-repellent zipper and canvas coating for extra care. All round protection with All Over Fox Head, a playful spin on durable protection.
MORE RECYCLED THAN EVER
PLANET POSITIVE CARRY
All Over Fox Head Sleeve is crafted with recycled materials for carry that's better for both you and the Earth. From 100% recycled canvas to accents made of a plant-based leather alternative, unlock a more sustainable carry option that's just as long lasting.
FUSING FASHION & TECH
MAISON KITSUNÉ X NATIVE UNION
Together with Maison Kitsuné, we're bringing you something different. Bold and playful capsules of modern essentials created to add personality to your most-used products. When just one fox head isn't enough, revel in Maison Kitsuné's iconic fox on full blast with this lively capsule for your essential tech.