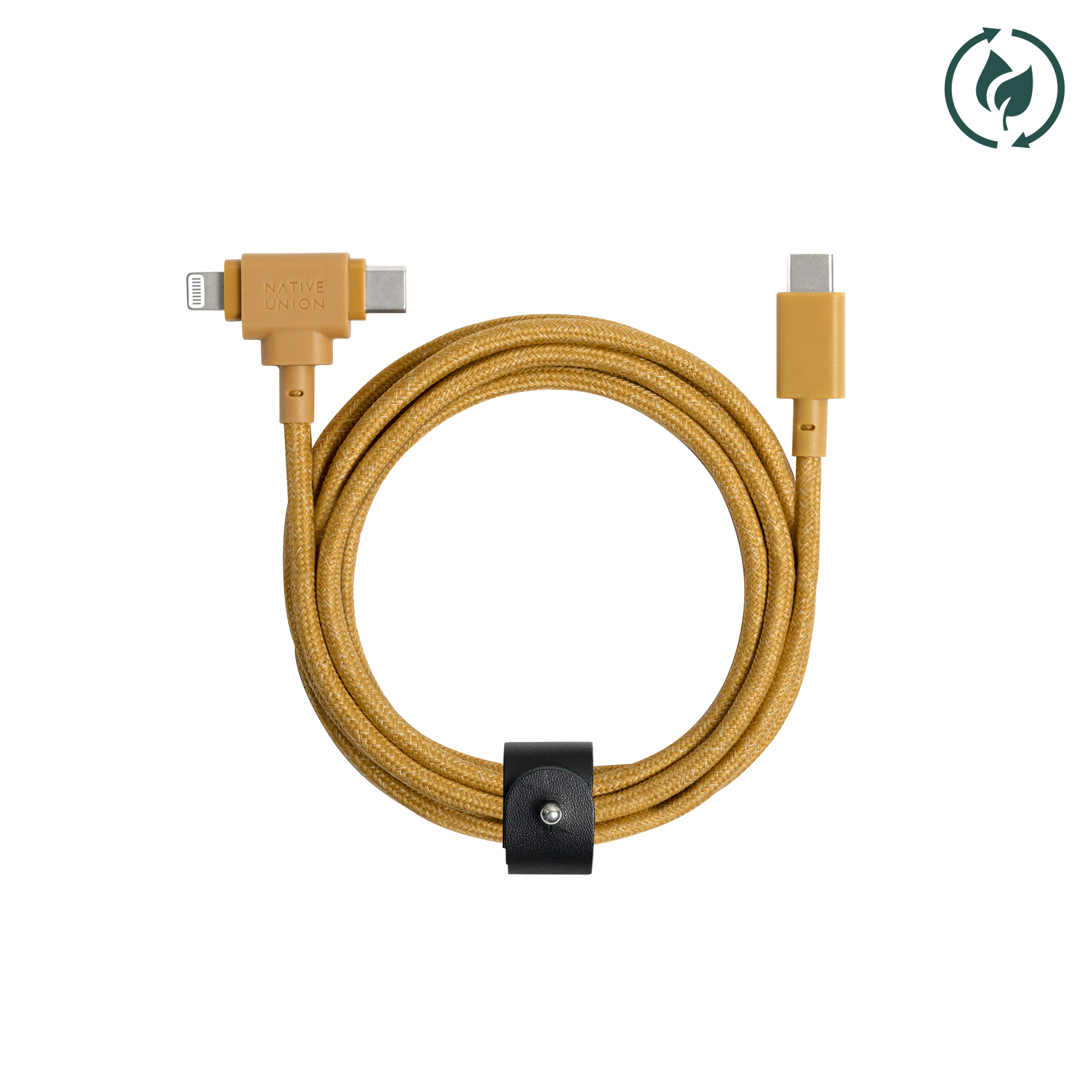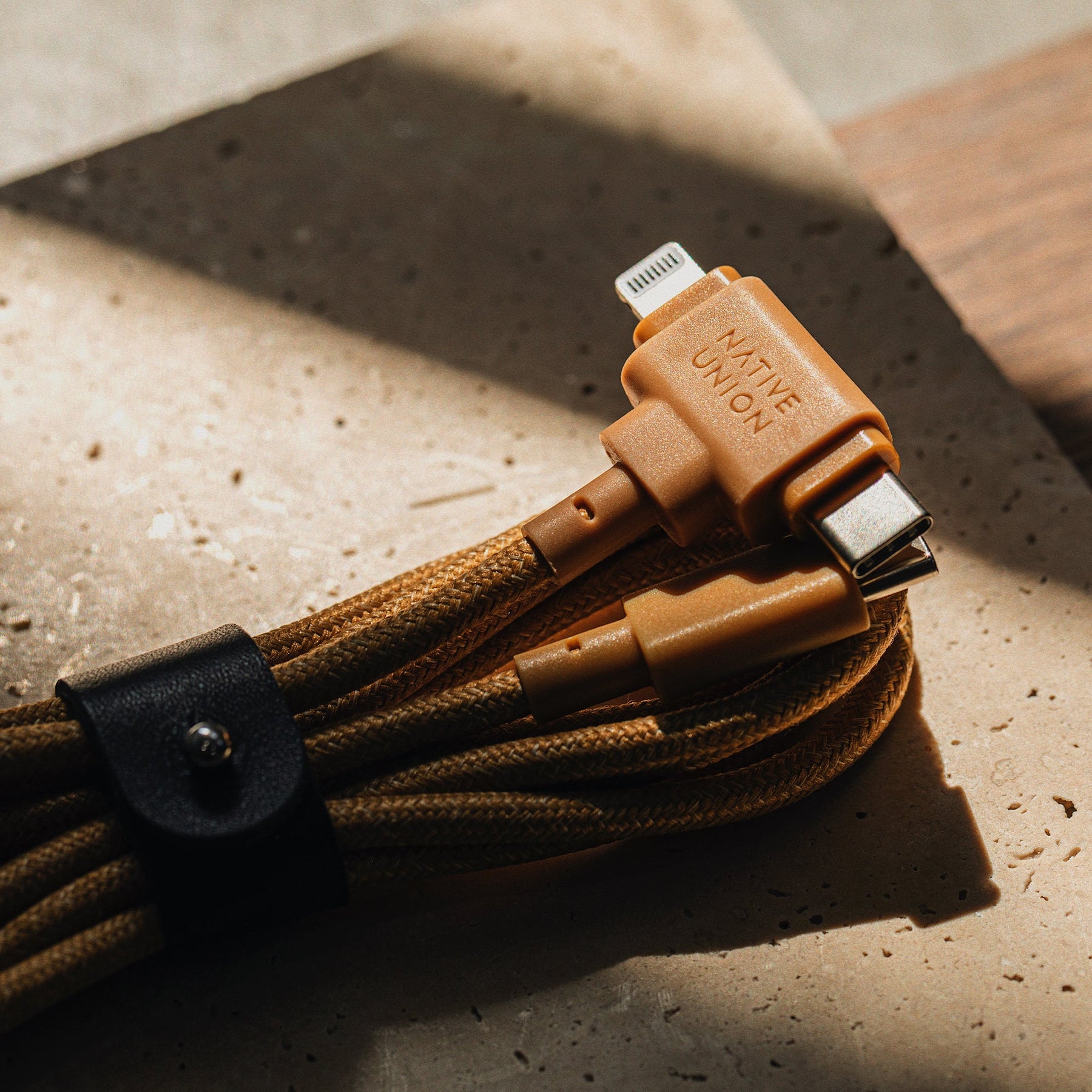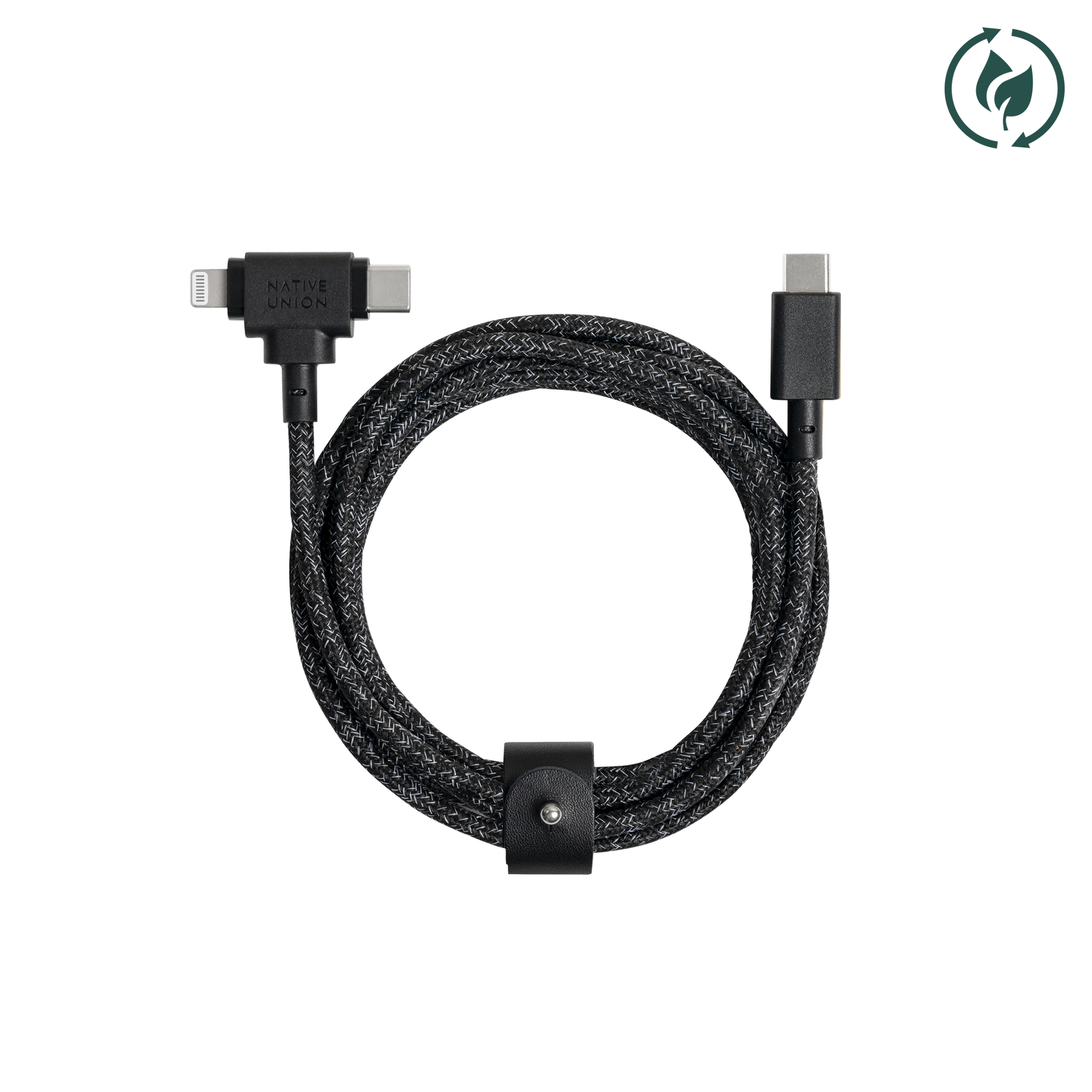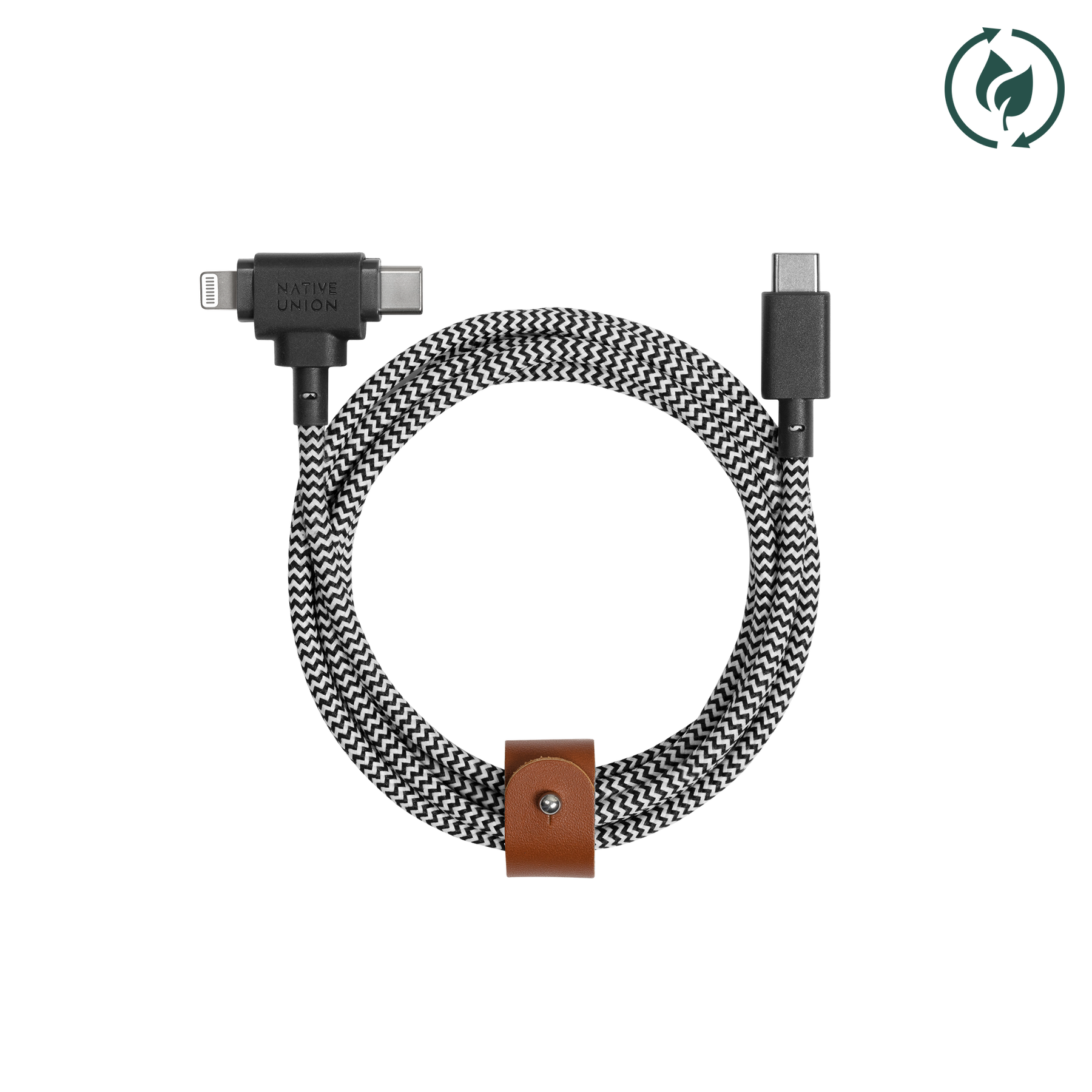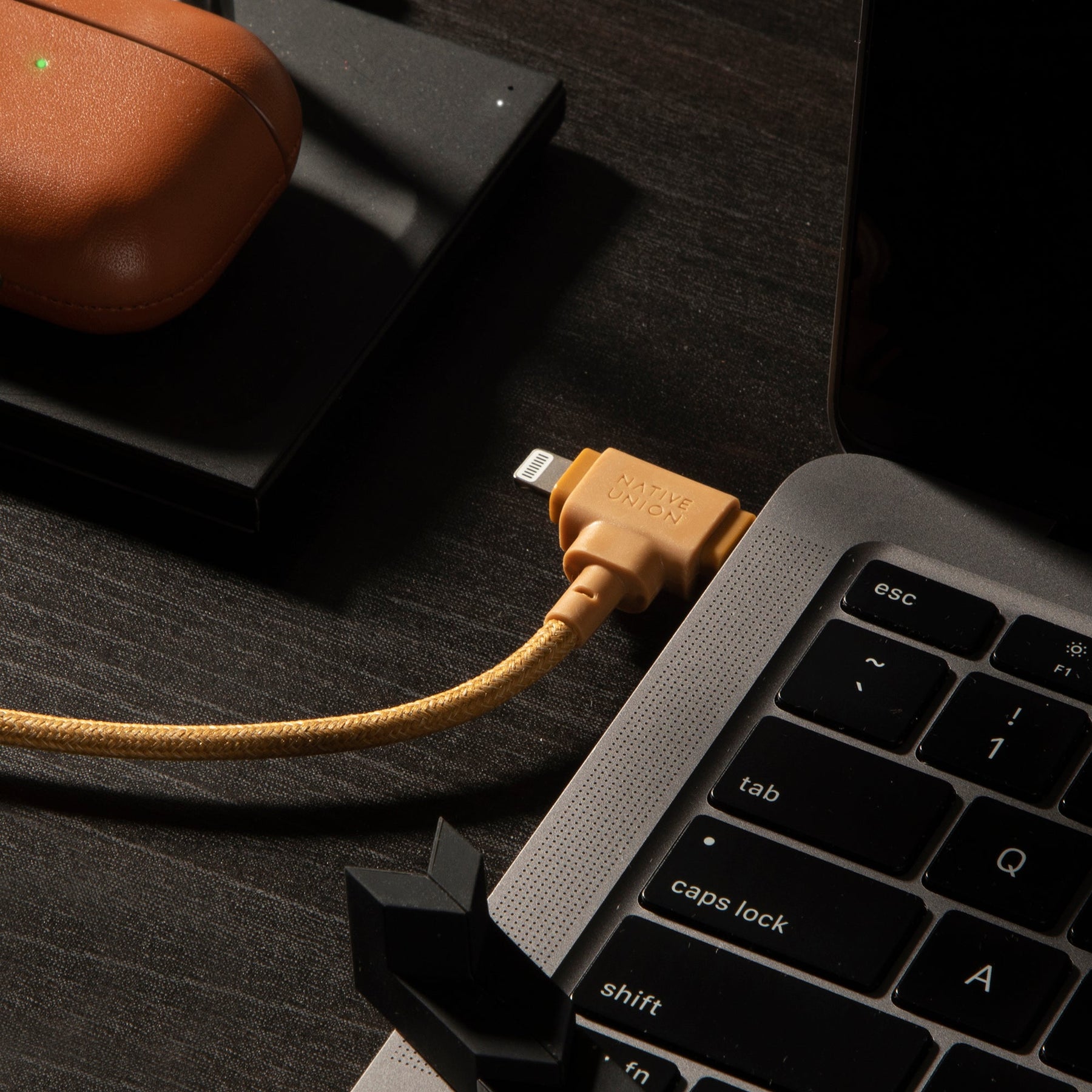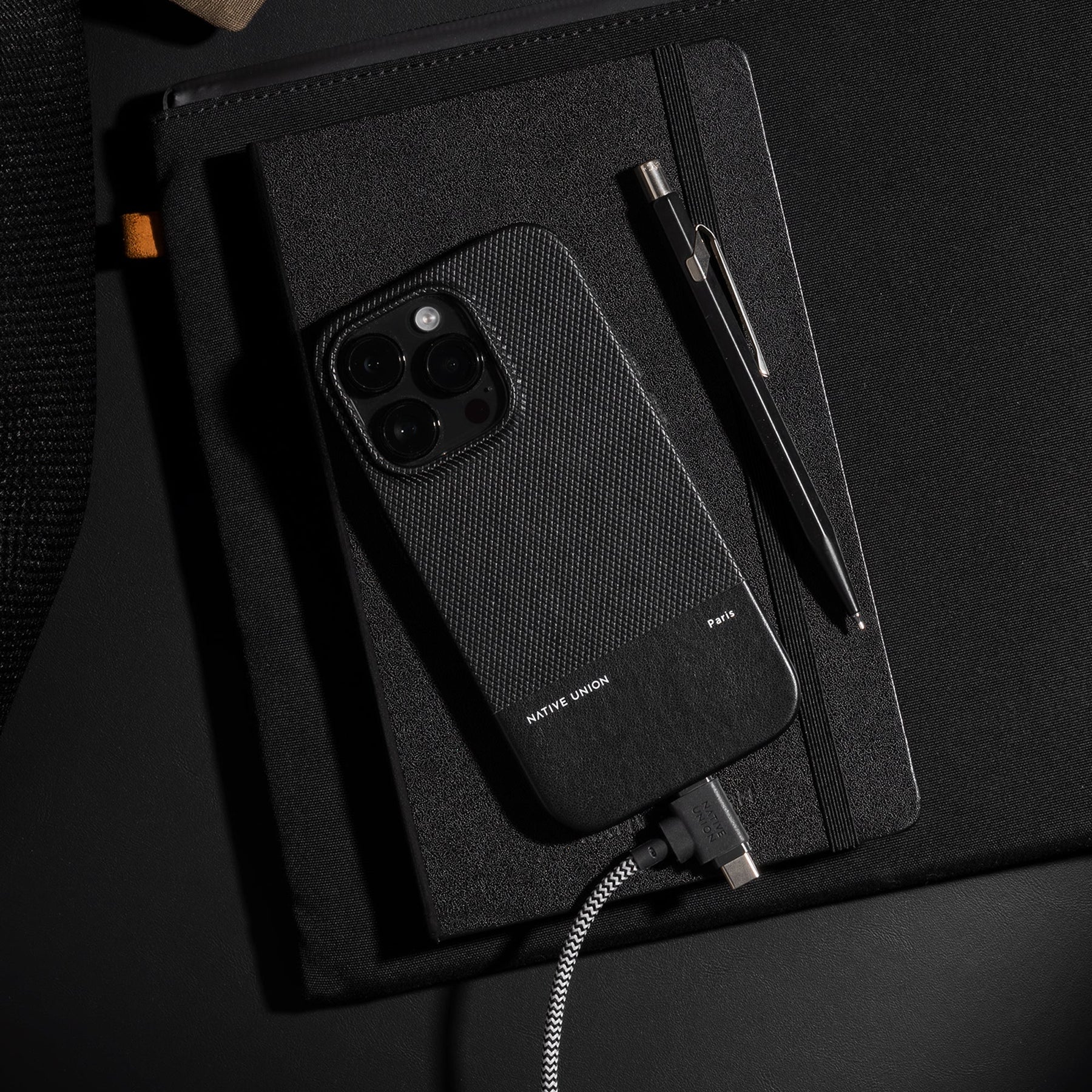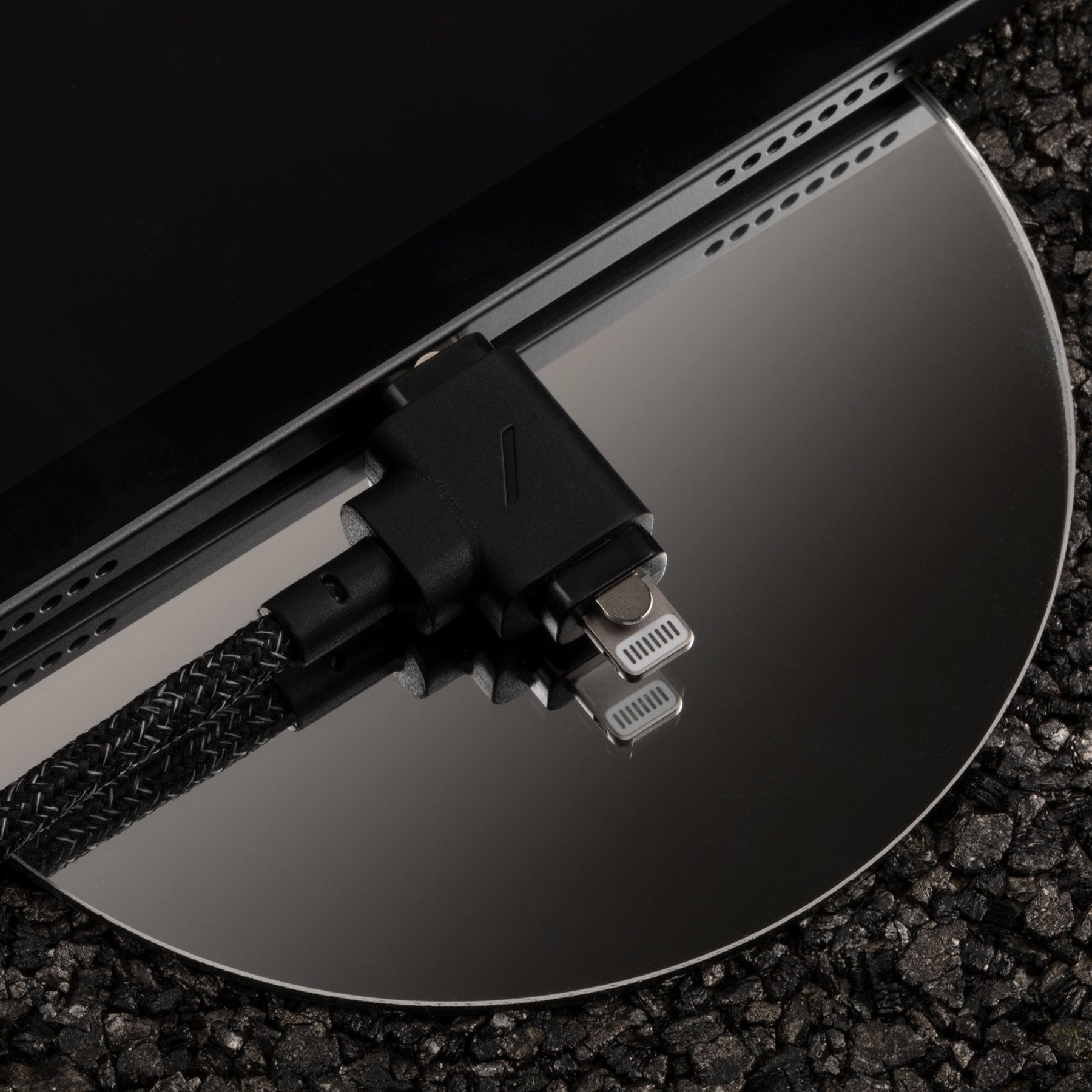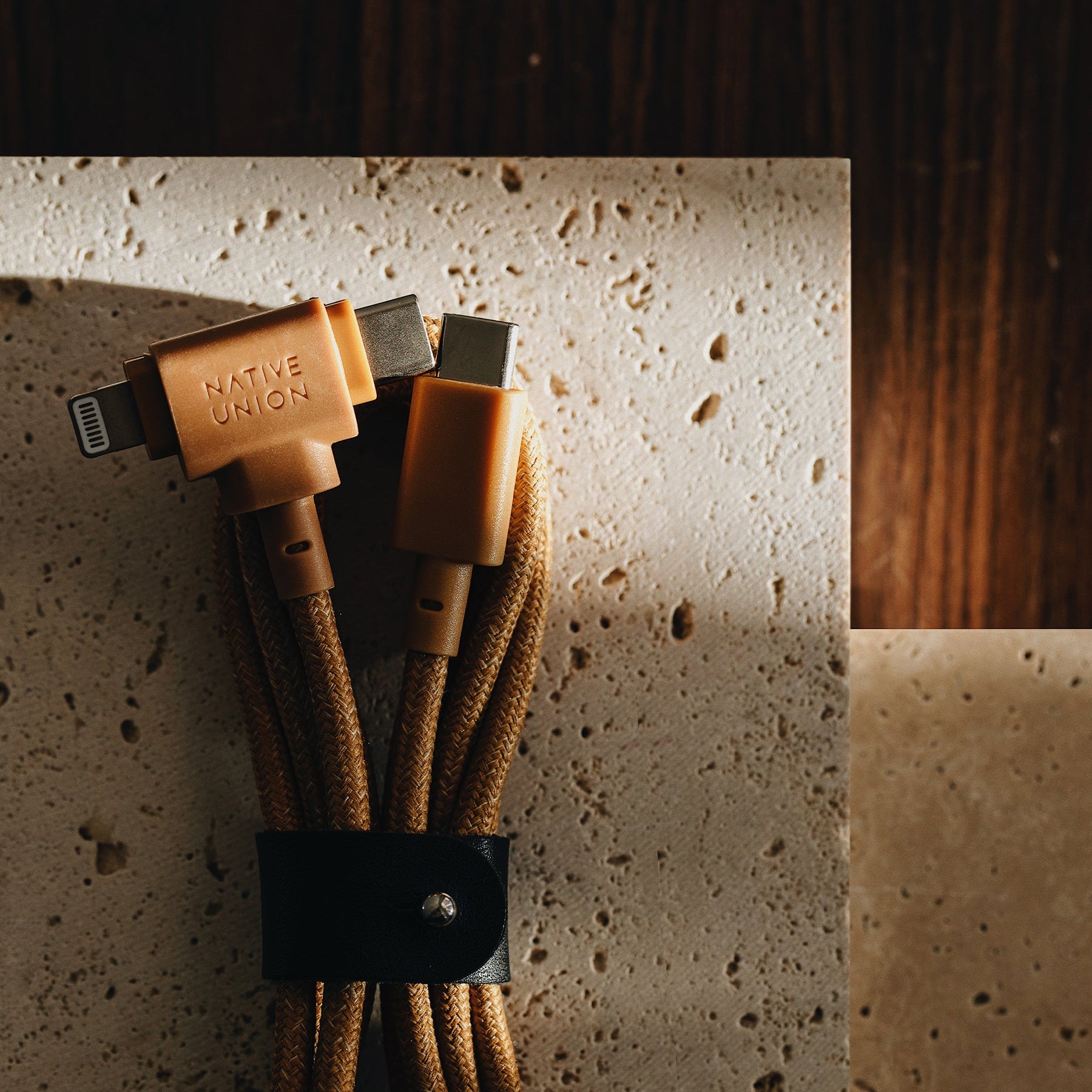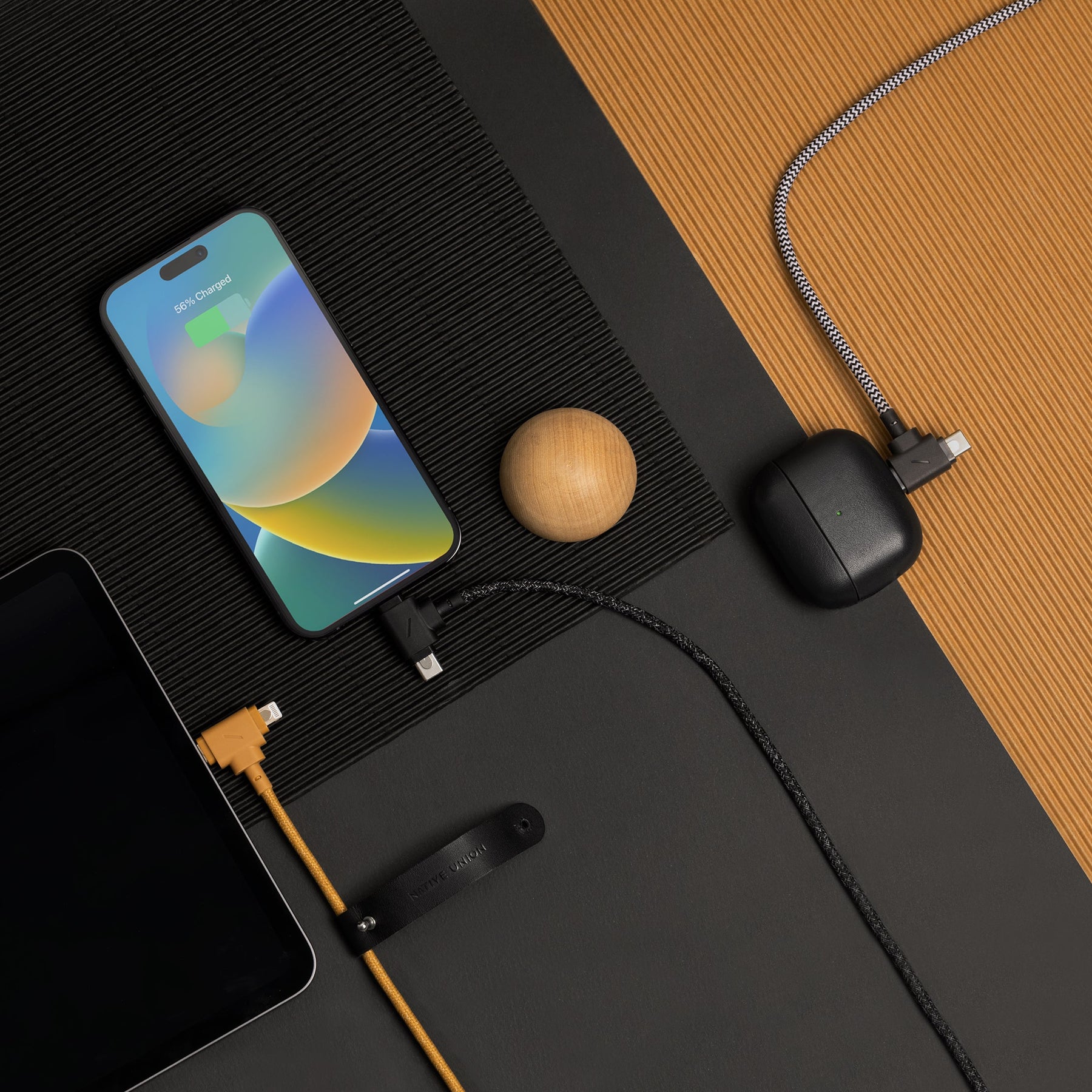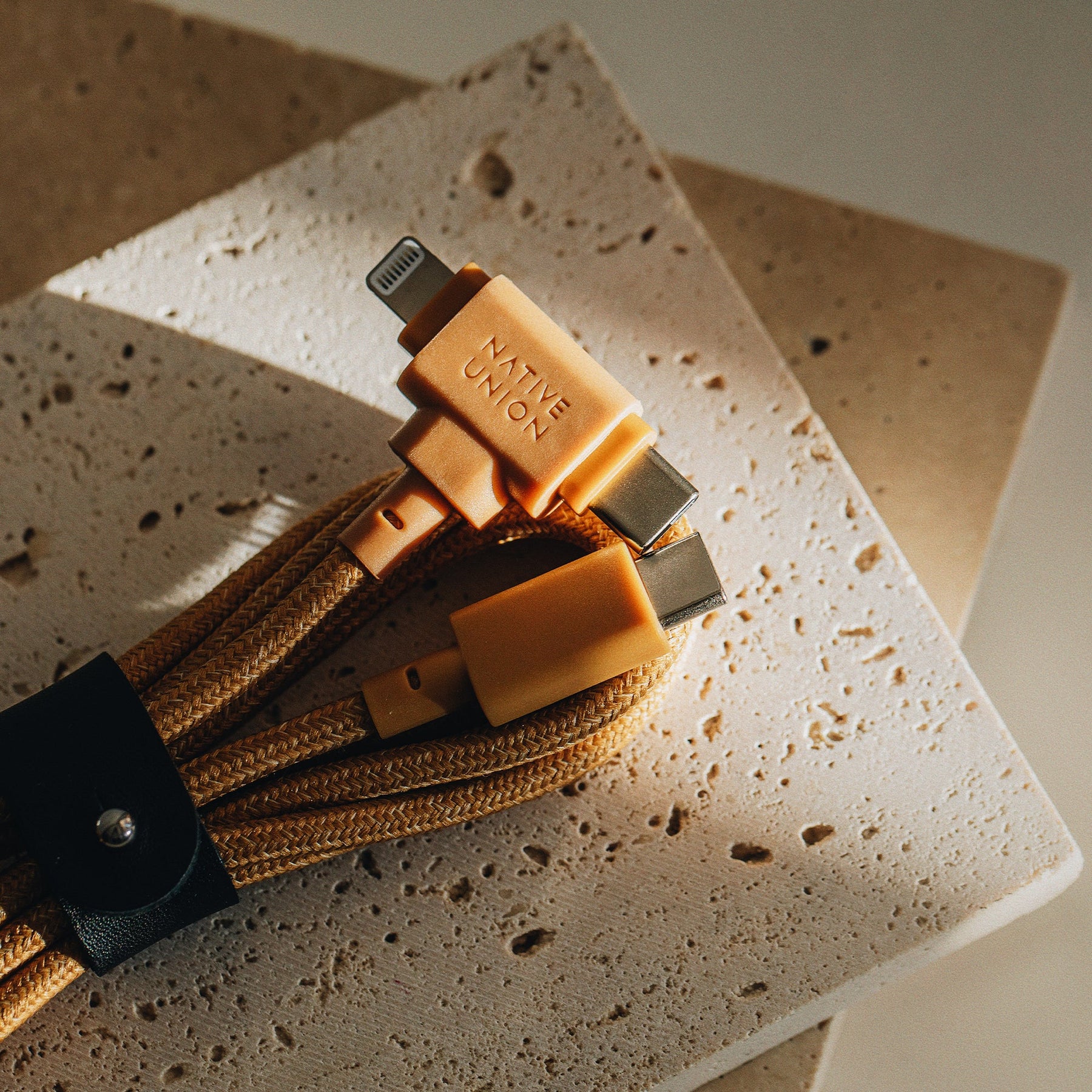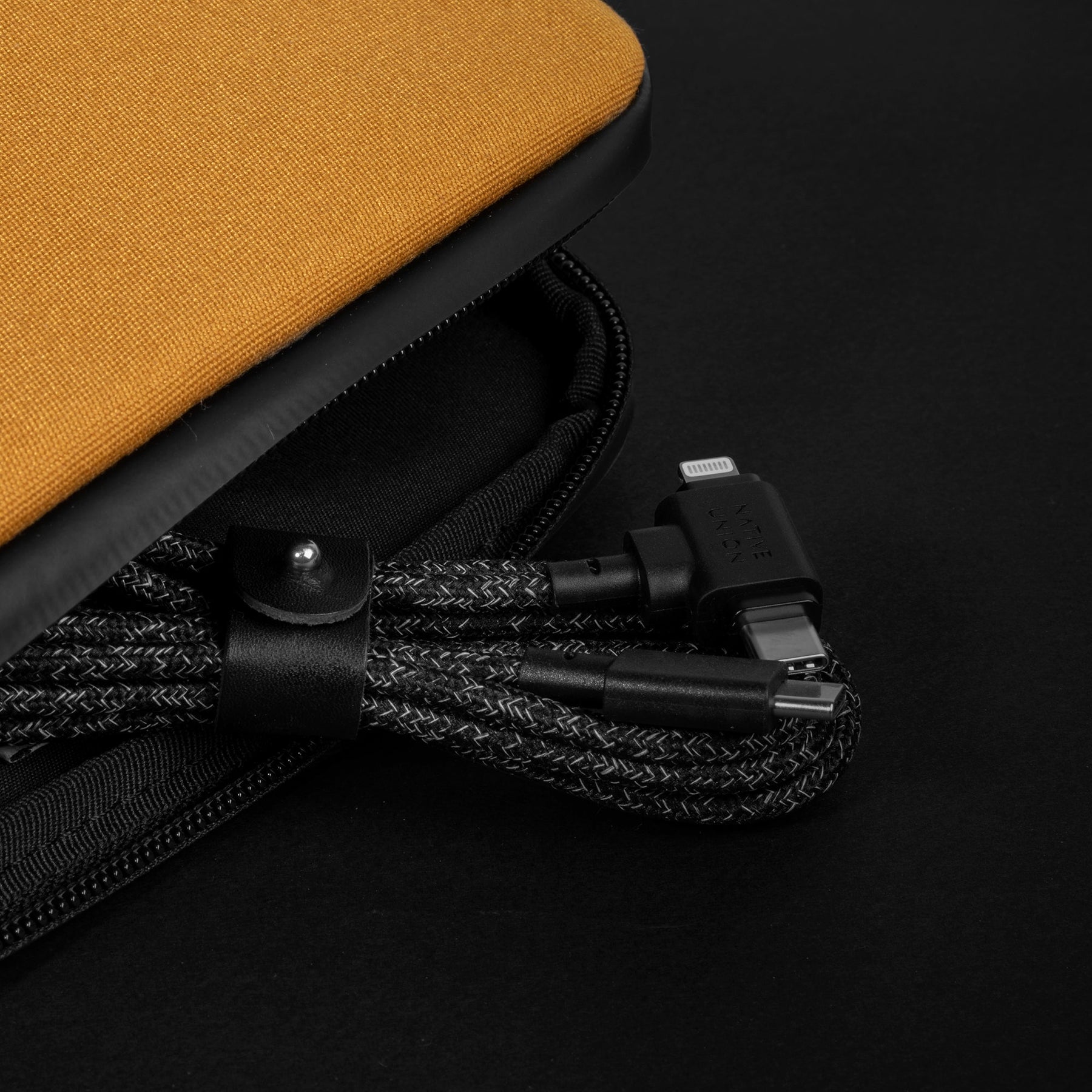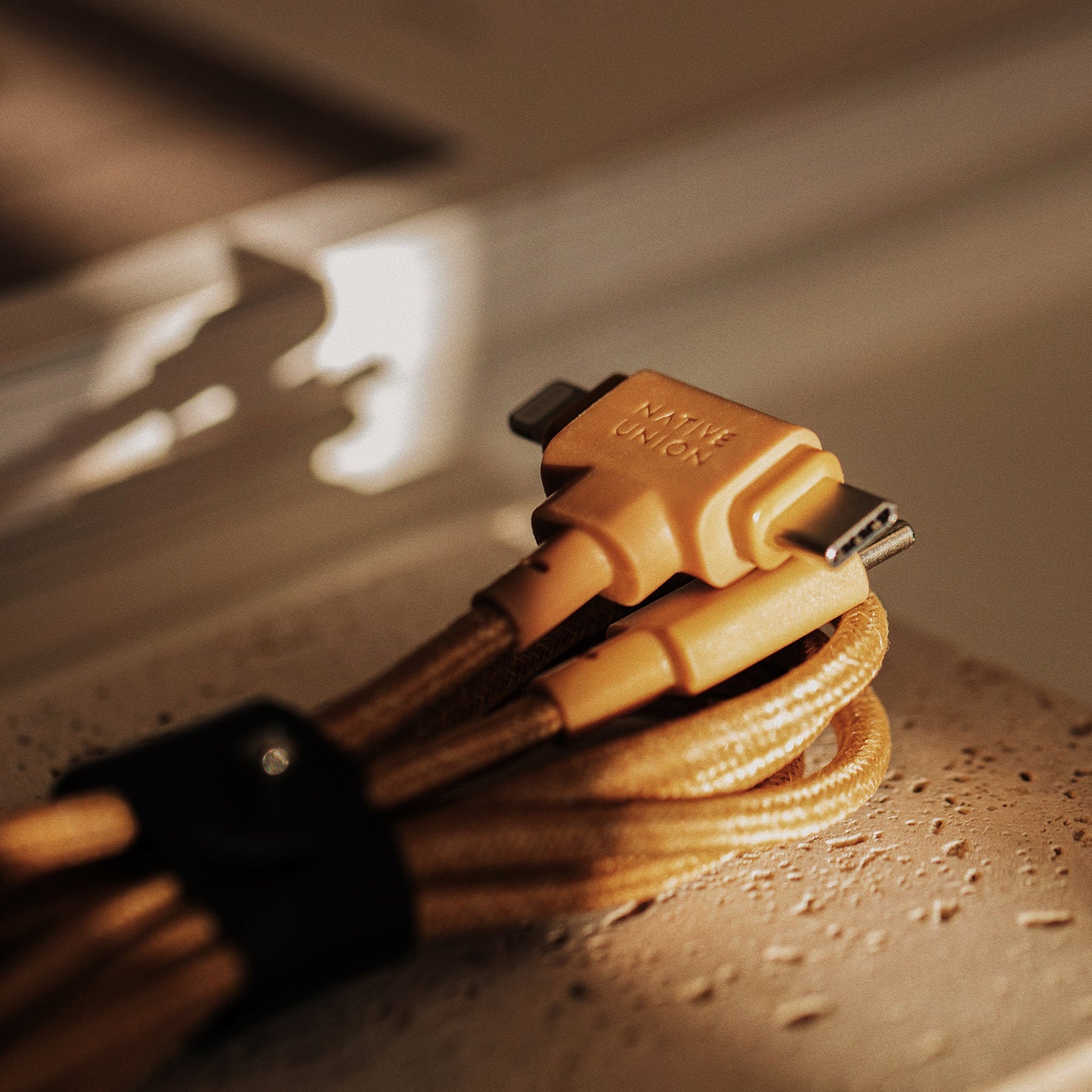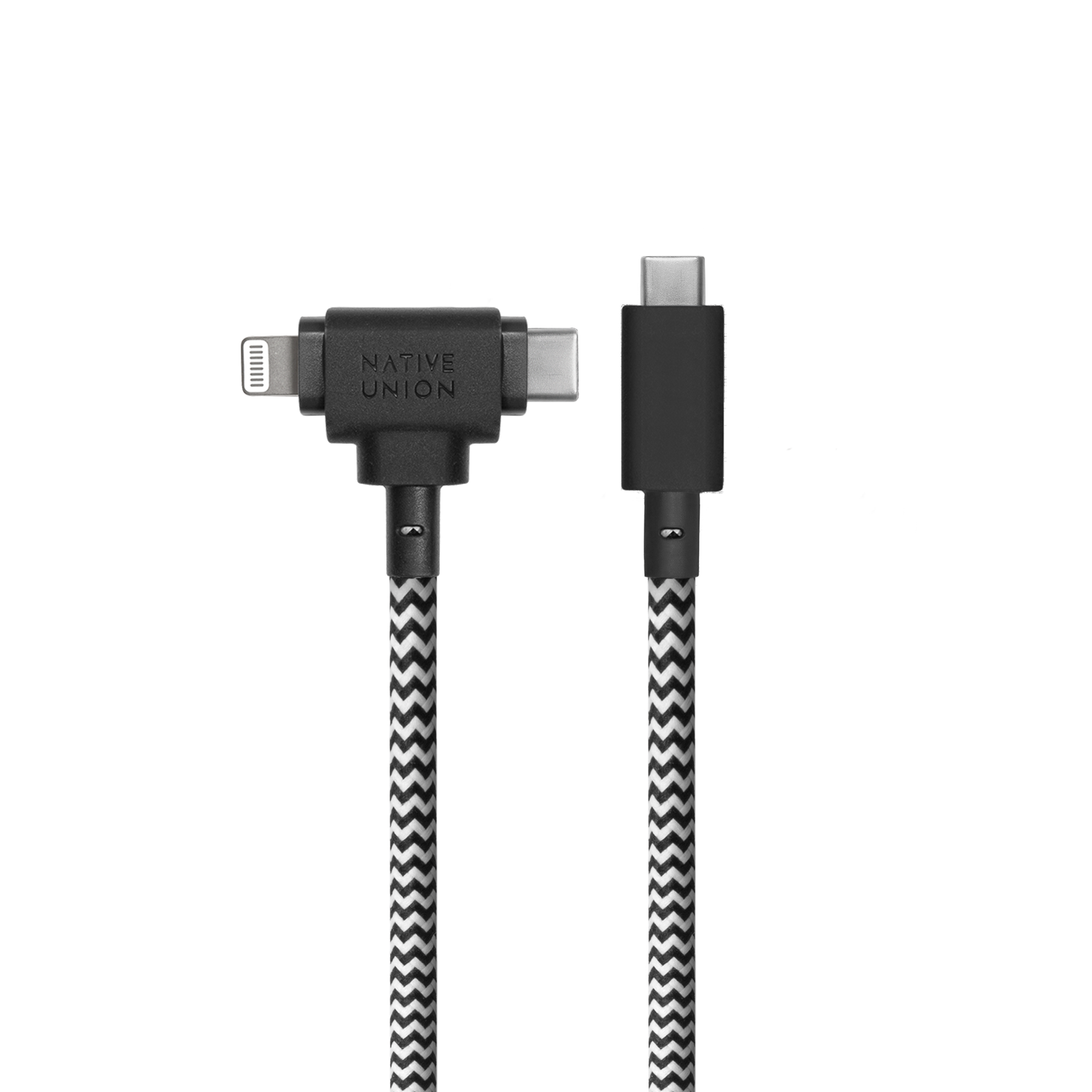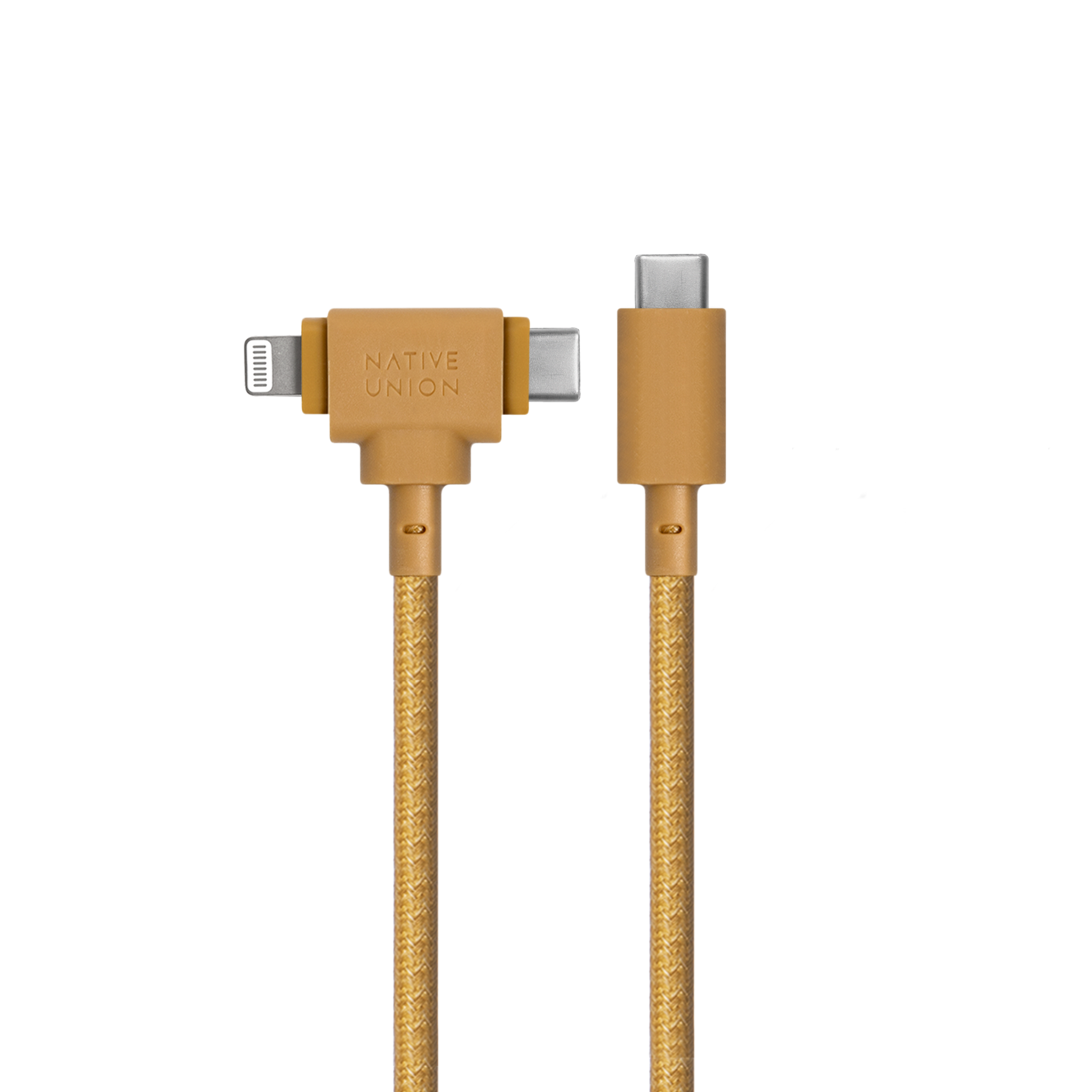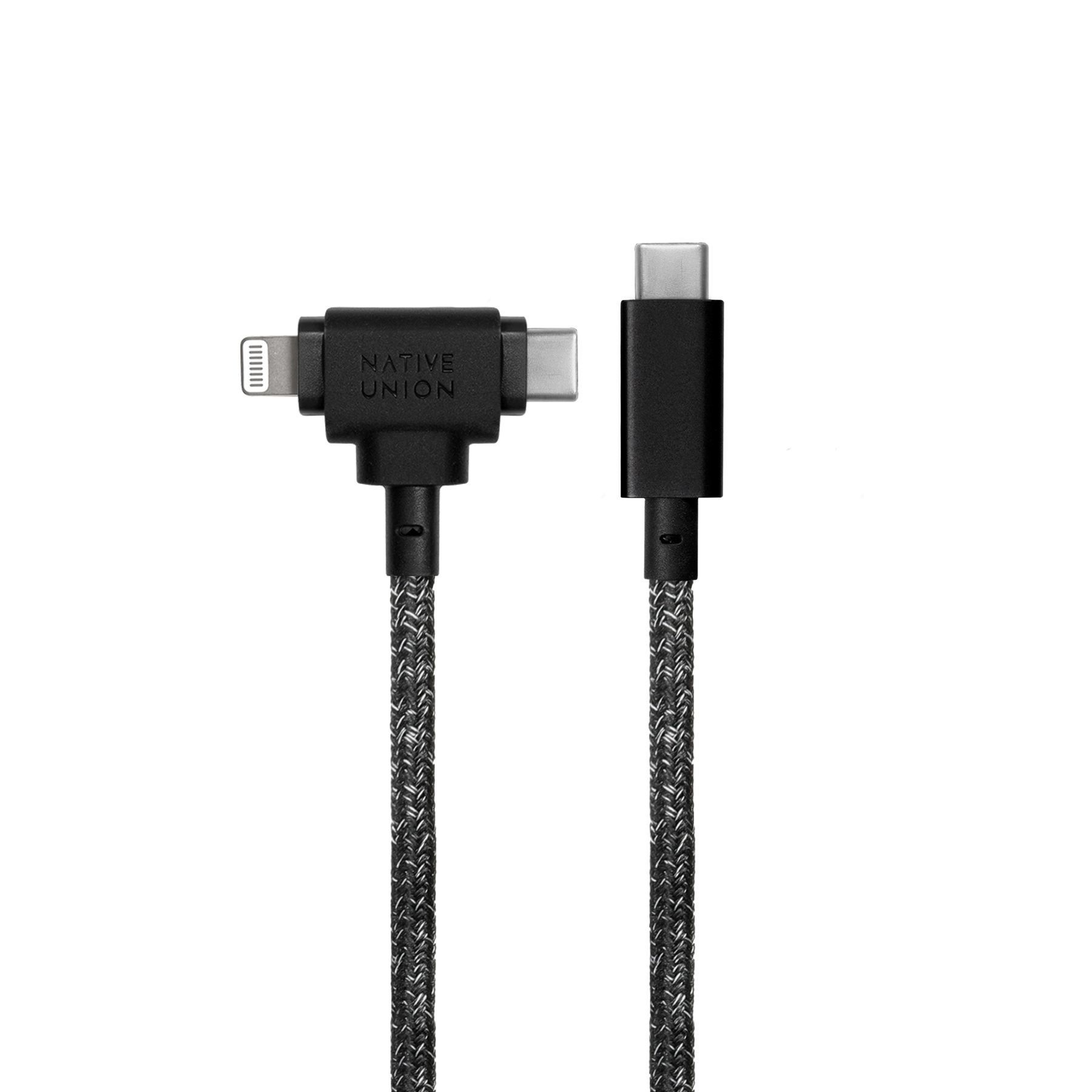 rated 4.9 from 43 customers
Belt Cable Duo
The impossible cable made possible: recycled 5 ft braided 2-in-1 cable
Powers all your devices (see compatibility)
Apple MFi certified connector
Lifetime Limited Warranty Most durable cable ever with reinforced braiding & ultra-strong aramid fiber core
Eco-friendly construction 100% recycled PET braiding, recycled housings & 75% recycled bonded leather strap
141
The ultimate cable you've been searching for is finally here. Solve all your power needs with the most sustainable and universal charge ever. Designed for superior convenience and versatility, this unique multi-device cable houses USB-C and Lightning connectors in a single head and is built to the highest standard of durability to withstand even the most active all-day, all-device use.
The only cable you'll need: sync & charge all your devices with a single, powerful 2-in-1 cable
Supports high-speed Power Delivery charging up to 60W for Type-C laptops & fast-charges your iPhone up to 50% iPhone in under 30 mins

Your most durable cable ever with reinforced braiding & ultra-strong aramid fiber core

Made better for the Earth with an innovative eco-friendly construction: 100% recycled PET braiding, recycled housings (100% rTPU & 20% rTPE) & 75% recycled bonded leather strap
Patented Slide Lock technology to swiftly & safely switch between connectors
Stay tangle-free with recycled bonded leather strap
Choose quality: Apple MFi certified connector
  WARNING for customers in California (USA)
---
| | | | |
| --- | --- | --- | --- |
| | | | |
| Recycled Materials | Lifetime Limited Warranty | 14-Day Returns | Secure Checkout |
Max Wattage: 60W
Product Materials: Recycled PET, recycled TPU, recycled TPE, recycled bonded leather strap, DuPont™ Kevlar® fiber
Cable Length: 5 ft / 1.5 m
Connection Types: USB-C to Apple Lightning & USB-C
Weight: 1.76 oz / 50 g
This product is compatible with:
USB-C charging port
All Apple Lightning devices
All Type-C devices
Why Slide Lock technology?
To automatically and securely switch the power between the two connectors when you plug in a device
To ensure safe charging and keep your devices protected
To meet MFi regulations, for quality you can depend on
DuPont™ and Kevlar® are trademarks or registered trademarks of affiliates of DuPont de Nemours, Inc.
We finally made the impossible cable possible. We worked hours on end to craft this unique 2-in-1 design with both connectors on the same head – a first-of-its-kind rare combination never before seen on the market. While many multi-device cables require attaching and detaching adapters, our patented Slide Lock technology enables the easiest way to switch between connectors with one swift motion. Streamlining your charging experience for all your devices with Belt Cable Duo, the apex of all cables that we've been dreaming of.
43 happy users
loved this product
Unique and Universal
THE FIRST EVER DUAL-CONNECTOR TYPE-C CABLE
A one-of-a-kind dual connector delivers the most quintessential universal charging experience you'll ever need. Our proprietary 2-in-1 head design boasts up to 60W charge in an extremely convenient form that works with all your devices. iPhone, AirPods, MacBook, Kindle, headset, drones, or any device fitted with either a Lightning or Type-C charging port.
Better for the Earth
PLANET-POSITIVE POWER
The most responsible cable you've ever seen. We engineered Belt Cable Duo to have a cutting-edge eco-friendly construction, made with recycled PET, TPU, TPE and leather. Consciously created in a balance of sustainability and durability, the cable core is made of ultra-strong aramid fibers for enhanced robustness. All that using only one cable instead of two. Buy less, but better.
Sleek and Secure
SUPERIOR DESIGN DETAILS
Clever details level up your everyday charging experience. Our patented Slide Lock technology makes switching between connectors seamless and secure, while the cable braiding and leather belt keeps your cable neat and tangle-free. Carry just one cable, but the best one there is. With this high attention to detail and quality, Belt Duo is set to be your new everyday charging essential.